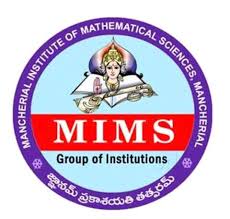 MIMS ( Mancherial Institute of Mathematical Sciences ) DEGREE COLLEGE was established under the "Ramanujan Educational Society" in the heart of the town of Mancherial with the aim of providing the highest standards of quality education in the Singareni area. MIMS aims to include quality education for deprived section , uneducated across the country irrespective of caste, religion, ethnicity and gender. With the sincere blessings of parents and well wishers, MIMS accomplishes this goal.
Ramanujan Educational Society - Beginning with Degree College and expanded the institutions to PG, Junior College and High School. Now it runs its educational institutions from KG to PG with great success. Since the beginning of this journey, many students have become professionals and responsible citizens, contributing to the development of the country.
MIMS Group of Institutions - Beginning with Degree College and expanded the institutions to PG, Junior College and High School. Now MIMS successfully running its Educational institutions from KG to PG. Beginning in 2002 with just 120 students, MIMS Degree College has now made a mark in MANCHERIAL with more than 1400 students. More than 5,000 students (1400-1600 new students are enrolled each year), including pre-primary, primary, high school, intermediate, degree and postgraduate colleges, are in a strong position.
Our Moto
"జ్ఞానం ప్రకాశయతి తత్పరమ్"
"Wisdom of Glory"
జ్ఞానమనేది శ్రేష్ఠత్వాన్ని కలుగచేస్తుంది ఎలాగైతే సూర్యుడు సమస్త చీకట్లను తొలగింపజేసి ప్రకాశాన్ని అందిస్తాడో, అదేవిదంగా జ్ఞానం అన్ని రకాల అజ్ఞానములను తొలగించి పరమాత్మని ( పరమాత్మ అంటే ఇక్కడ సర్వశ్రేష్టమైన విషయము అని అర్థము) తెలియజేస్తుంది.
Knowledge is always enlightening.
Just as the sun removes all darkness and gives light, so also knowledge removes all ignorance and conveys the Supreme
Mission
The mission of the MIMS DC is to contribute to society through the pursuit of education, learning and research at the highest international levels of excellence.
The college relationship with society
The widest possible student access to the society
The contribution which the college can make to society through the pursuit, dissemination and application of knowledge
National Service Scheme
Red Cross Society Blood Donation camp every year in the campus
Medical Camps in backward villages
Active volunteership by the students in every government society welfare activities.
Hostel facility for all level of students.
Concern for sustainability and the relationship with the environment
College staff
Every Institute needs the best staffing services. Recognizing college staff services and rewarding them is a great asset to our organization.
The encouragement of career development for all staff
Highly experienced with enormous teaching track record staff.
Other activities
Provide opportunities for students and staff to broaden their skills and experience by encouraging them to participate in sports, music, drama, visual arts and other cultural activities
Our Institutions: (Day & Residential)
We are proud to introduce our MIMS Educational Institutes, which aim to provide the best possible outcomes, along with a dedicated, collaborative approach to ensuring the best and quality higher education. Our achievements will be displayed in the form of an expansion of our Ramanujan Educational Society. Today MIMS Institutions are leading the way in providing quality education at all levels and raising skills among students.
MIMS P.G COLLEGE:
MIMS Post Graduate College (Co-Ed.) In 2007, Mims Degree College with Science, Maths & Commerce courses resulted in the great achievement of the Post - Graduate College. It has become more convenient and beneficial for the students to pursue higher education in their own area, without having to travel far to get higher education.
MIMS JUNIOR COLLEGE:
MIMS Junior College was founded in 2010. Mims Junior College has been successful with maximum admissions at the intermediate level and with good results at the state level. Within the first year of launch, we had a full-fledged infrastructure.
MIMS COMMERCE JUNIOR COLLEGE:
MIMS Commerce Junior College was established in 2014 as never before by the Commerce Specialist College in the district to provide quality education at the intermediate level. Providing Commerce Education with specialized Commerce faculty, the work in this area has proven to be excellent.
MIMS PLAY AND HIGH SCHOOL:
MIMS Play School was founded in 2014 to provide a higher education with culture and aimed at unleashing dormant talent among students. Within the first year, classes started from nursery to VII standard and we are successful within the first year. In the first tenth batch (2016-17) our students got ten grade points, Mims School was successful with district level results.
MIMS has been in the hearts of parents since the beginning of school by providing excellent, quality education and culture to all students. The incredible support of our students' parents and the confidence they have shown in us has made us a success and has made it one of the best schools in the region today.
MIMS Group of Institutions operates on its own premises, with all accommodations like Games and Sports, Labs, Seminar Hall, Meeting hall, Toilets etc.